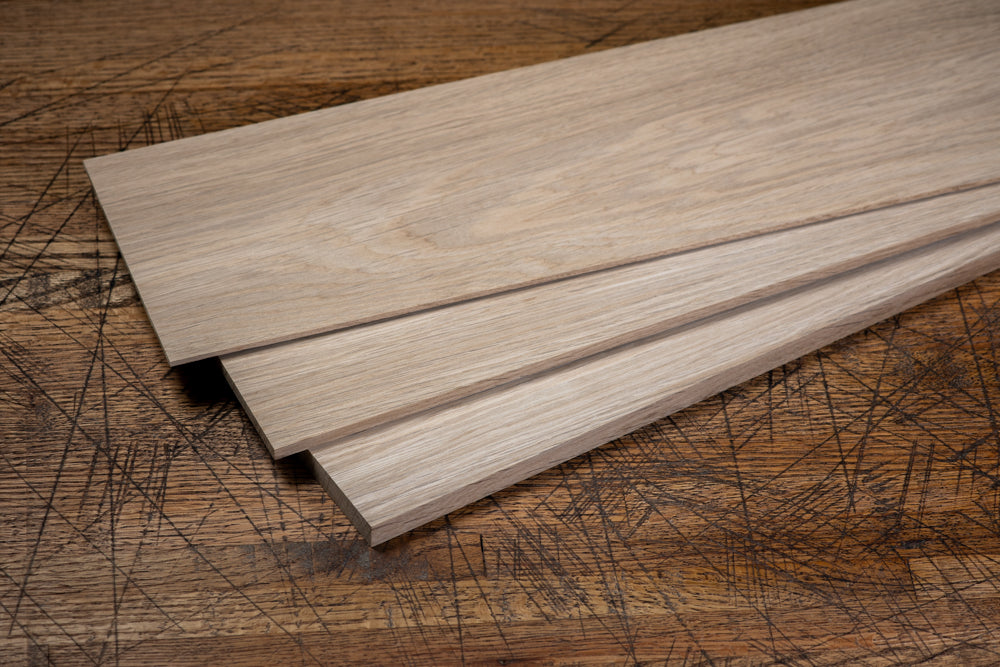 1/4" White Oak - Thin Stock - Plain Sawn
1/4" White Oak - Thin Stock - Plain Sawn
There are many oak species that are categorized in the "white oak" family.  At North Castle Hardwoods, we strive to narrow down our white oak product offering to specifically genuine white oak (quercus alba). This is how we can offer such a consistent product.
White oak is uniquely versatile and is very resistant to wear. White oak is heavier and harder than its relative, red oak. The heartwood is moderately decay-resistant and often used in outdoor applications. It is an excellent choice for furniture, table tops, and architectural applications such as cabinetry.  It makes a beautiful wood to mix in as an accent with other species.  An important use of white oak is for planking and bent parts for ships and boats.
To learn more about our proprietary grades, check out our custom grading rules that are always a notch (or two) above the competition.
Product Features
1/4" S4S white oak plain sawn thin stock.
Dimensioned to 1/4" thickness. (See tolerance chart.)
Plain Sawn: features classic "cathedral" shaped grain pattern.

Widths are finished at the stated measurement or up to 1/2" wider. (See tolerance chart.)

Lumber is carefully stress relieved in dry-kilns and free of internal stress, therefore very stable.
What is White Oak used for?
White Oak is often preferred over Red Oak for fine sliced veneer products.  This wood is popular both in the US and internationally, as white oak lumber and dimensional products are often used to match white oak veneer.  One unique feature of this North American hardwood is the presence in its cells of a honeycomb-shaped film called "tyloses."  These tyloses swell to fill the vessels of the wood so that they can no longer conduct water, which is why white oak is used to make whiskey and wine barrels.
Woodworkers often choose white oak for flooring, furniture, doors, millwork, crafts, and many other applications.
We suggest that you always wear a protective mask as the dust may be harmful to your health.