Black Walnut Lumber: Color, Grain & Characteristics
Black walnut for woodworking is a favorite wood species for many reasons. It is often called the King of the Hardwoods for its superior good looks and how easy it is to work with.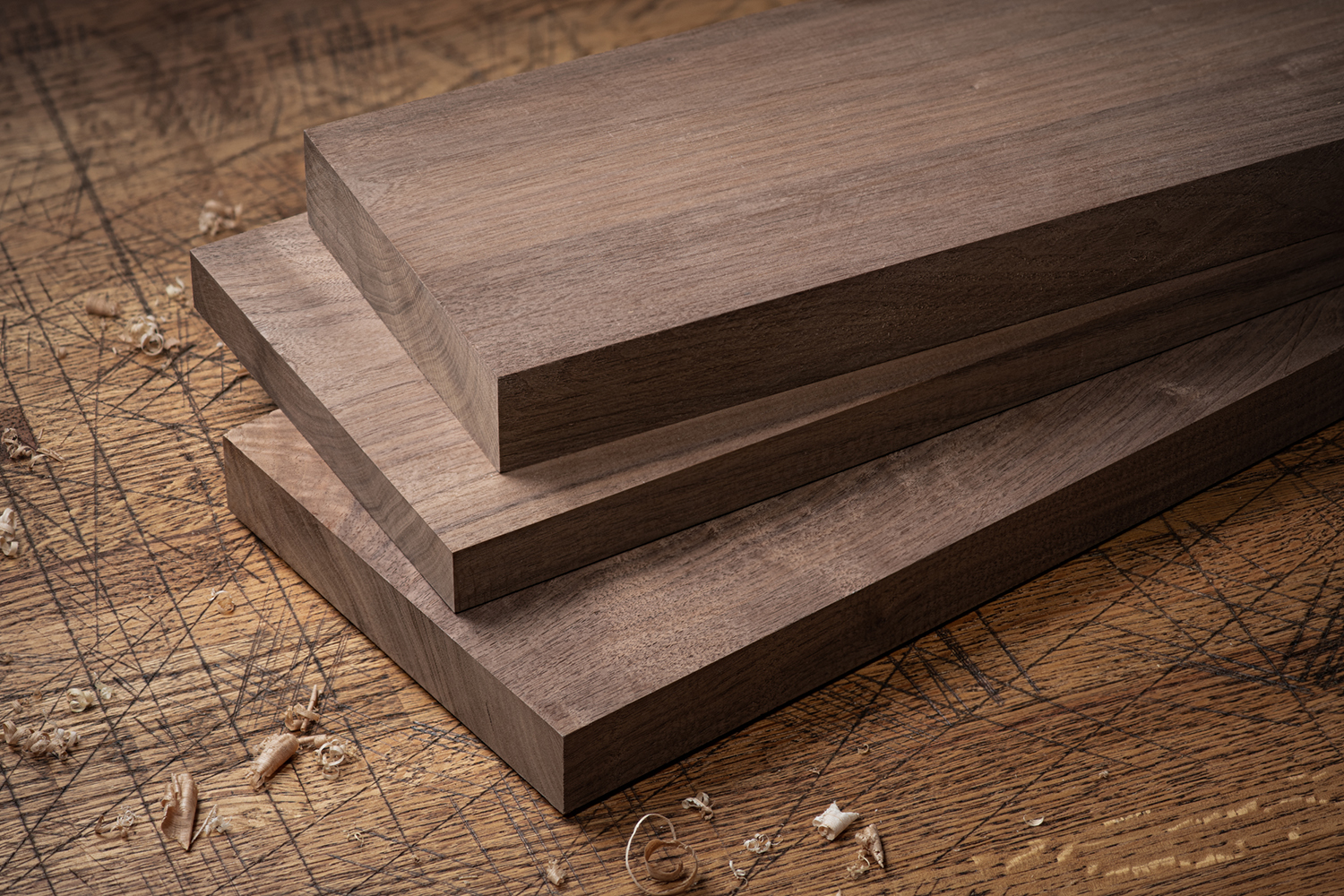 Walnut Wood vs. Black Walnut
What is the difference between walnut wood and black walnut lumber?  North America is the only source of black walnut, while other countries may have walnut trees that are of different species. Most "walnut wood" that is sold in the United States is the black walnut species.
Unique to North America, black walnut lumber is in very high demand throughout the world. 
However, unfortunately not all black walnut-producing regions are created equal.  Depending on the region, color, texture and clarity can wildly differ.  Some regions produce extremely fast-growing trees, which results in wide growth rings of 2~3 growth rings per inch, and therefore quite uninteresting grain patterns.  Some regions produce trees that are full of bird pecks, large knots, and extensive pin-knots.  Some come from farmland where metals are used for fences that get stapled onto walnut trees, therefore full of metal streaks and stain. Yet, other regions may have soil content that encourages heavy mineral streaks, reddish wood color.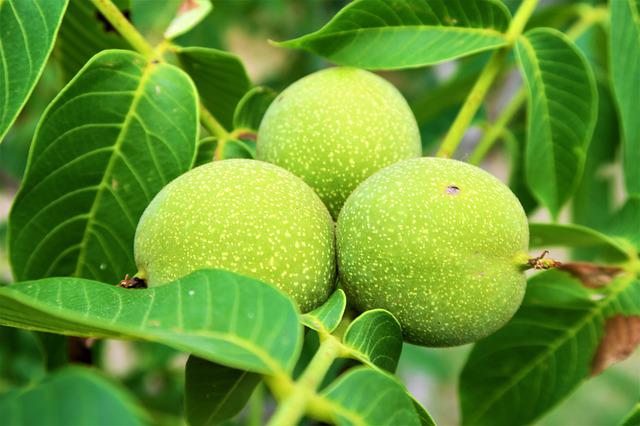 Where does walnut wood grow?
At North Castle Hardwoods, we source black walnut timber and lumber only from the most exclusive regions that produce the best quality (least amount of defects) lumber, excellent color and texture and grain pattern that have become the trade-mark of our walnut lumber and dimension products.  In addition, our walnut lumber is always steamed at an optimal condition to ensure the best possible color matching and sap wood stability.
The wood exudes rich natural beauty with visually appealing patterns in its fine, open grain. The wood itself is warm to your skin.  When you've skillfully finished this wood, black walnut's splendor will be enhanced and preserved for generations to enjoy.
What's Here: This comprehensive page discusses this wood species' appealing color and characteristics, available material dimensions and favorite black walnut woodworking projects from cutting boards and countertops to shelving and carvings. You'll also learn how North Castle Hardwoods sources select black walnut from sustainably and responsively managed forests in North America.
Terminology tip: When shopping for black walnut, you might see it called American black walnut, American walnut or Eastern black walnut. All these names refer to Juglans nigra – black walnut.
Tips for finishing black walnut are included along the way that will help you achieve success in your woodworking.
What Color is Walnut Wood?
The heartwood of black walnut ranges in color from warm, medium brown to deep chocolate tones.  North Castle Hardwoods' black walnut provides you with an exciting combination of excellent color and texture and dimensional stability, which gives that warm and "luxurious look" that one would desire from this wood.
Steaming is done in closely controlled teaming chamber for three days, which blends the sapwood and heartwood colors.  This process not only gives the wood more uniform color, but conditions the wood for uniform final finish. 
Tips: Most woodworkers feel this lovely array of color is best displayed by using a transparent sealer or oil to finish this wood. However, depending on the finished look you want, staining steamed black walnut can yield gorgeous results as well.
We suggest experimenting with a clear finish and stain options on sample pieces before deciding which approach gives you the appearance you prefer.
If you choose to oil black walnut, beware that linseed oil and tung oil can turn the wood an unappealing gray as the oil ages. If used in kitchen items such as cutting boards or utensils, be sure to use food grade oil for food safety. 
Favorite Projects and Uses
Woodworkers love black walnut for both its handsome rich and good looks and its wonderful workability. No wonder it is considered one of the best hardwoods for a variety of woodworking uses!
Did you know? Black walnut is naturally resistant to moisture and rot. And studies reveal that wood is antibacterial, which cannot be said for stone and synthetic surfaces. These properties make walnut an ideal choice for the kitchen.
Woodworking enthusiasts put black walnut to use in:
Cutting boards and knife blocks – Splendid results are achieved when this wood is combined with the crafter's creativity. Cutting boards are produced as simply as sanding and finishing a slab of black walnut and as intricately as creating a black walnut butcher block cutting boards. Designing your own knife block from black walnut can be equally satisfying.
Countertops and tabletops – The visual richness and resilience of this premium material are exactly the attributes you want in countertops for the kitchen and bath or an elegant top for your coffee table or end table.
Shelving – Strength and charm are necessary in wood for shelving, and this material offers both. It is popular for bookcase shelves and stand-alone shelves holding knickknacks or novelties and items you use every day anywhere in your home.
Furniture – When you'd like to make a small piece that is both unique and hardy, consider this wood. It's a wonderful option for a jewelry box, footstool, small cabinet, wall-mounted coat rack, a chessboard as well as all sizes of tabletops and benchtops.
Carving – Black walnut is soft enough to carve with ease yet tough enough that whatever you create will have long-lasting durability. Favorite carved walnut items include trays of all kinds, dishes, bowls, candlesticks and decorative pieces fueled by your imagination.
Gun stocks – Put your personal touch on a favorite shotgun or rifle with this shock-resistant and handsome wood. Black walnut crotch wood is widely coveted for its highly dense character, and every piece becomes one-of-a-kind art masterpiece.
Musical instruments – Musial craftsmen have long known that walnut offers first-class sound qualities combined with the aesthetics necessary to create a masterpiece. Black walnut is most often used in stringed instruments and woodwinds.
Characteristics of Walnut Wood
Black walnut (
Juglans nigra
), is a premium hardwood with a Janka rating of 1,010 and excellent shock resistance. The density rating ranges from 0.5 to 0.7.
This combination of qualities makes it a durable wood yet a pleasure to work with. By comparison, hard maple (aka rock or sugar maple) has a Janka rating of 1,450 and density of 0.6 to 0.75, so it can be more of a challenge for the woodworker when cutting and sanding the lumber, and its hardness actually makes it less durable because it doesn't absorb shock as well.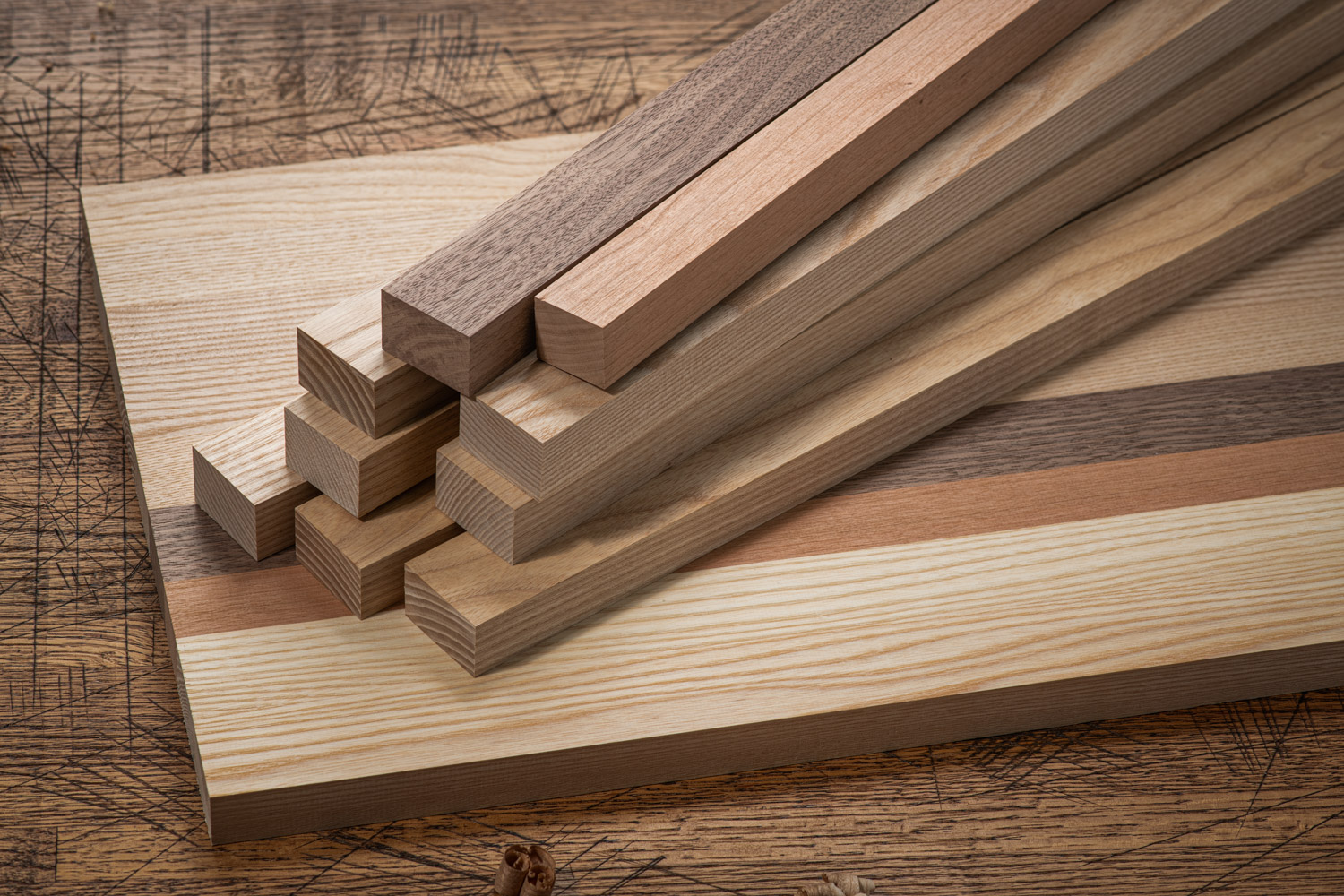 Tips for Finishing Walnut
The wood, medium in texture, is a delight to work with using hand and power tools. Black walnut is easy to cut, and it sands nicely without requiring a lot of effort. An exception, as with most hardwood lumber, is that sections with uneven grain can be more difficult to cut and sand.
Hand sanding with the grain is recommended for bringing out its splendor.
This woodworking lumber accepts glue easily, so your projects will hold securely together.
Whether you choose to stain the wood or simply apply a clear sealer, absorption of the material is quick and uniform for a superior finished product.
Can you Buy Walnut Lumber Online?
Yes! North Castle Hardwoods offers black walnut stock in 4/4, 5/4, 6/4 and 8/4 thicknesses. Each thickness is finish-surfaced and sanded with 100 grid sandpaper to +/- 1/64" precision, and straight line ripped with our glue-line precision rip saw on both edges.  These dimension products are of high precision and excellent clarity.  (see Dimension Product Quality Specifications)
How We Source Black Walnut
Responsible and sustainable forest management is critically important to us. Our hardwood logs are procured and harvested only by trained foresters and loggers to ensure that our forests are well taken care of, and only the mature timber is selectively harvested.  Our company is family owned and operated.  We have deep interests, vision and responsibility to pass down the work we have established to generations to follow.  Hardwood lumber is a renewable natural resource, and when forests are managed well, it will provide us and our children with unending resource in the future.
This gives us the opportunity to offer to you the finest hardwood lumber in North America with the understanding that our work in the woods has improved them rather than harmed them.
That's right – the forests from which we harvest our premium hardwoods show a net increase in timber volume year after year. That's how we achieve our goal of providing better lumber from better forests.
Selecting and Preparing Lumber
Timber Harvesting
Timber is selected with a trained eye, knowing which trees are mature enough to yield the best lumber for woodworking and which trees need to be left in the forest to enjoy further growth.  Selective harvesting also opens up the air space for healthy competition for trees to grow, and soon smaller trees will mature for another round of harvesting, perhaps in another 15 years. In this way, the same forest can provide endless supply of mature timber for people to enjoy. 
Sawmilling
Logs are responsively harvest from forests and brought to the sawmill.  At the sawmill, they are carefully sawn into lumber one board at a time, into specified thickness by the sawyer; edges are squared off by the edgerman; both ends of each board are trimmed with the double edge saw; and the well manufactured green lumber is meticulously graded, sorted and piled. 
Kiln Drying
However, the lumber cannot be used for woodworking until it is fully kiln dried and inspected.  Freshly sawn lumber is then stacked on drying stickers (narrow strips of kiln dried hardwood squares) that are evenly spaced on each layer to provide controlled airflow, and be gently air-dried under roof.  It is then loaded into the computer controlled dry kiln to be slowly dried to perfection.  After the lumber is kiln dried and thoroughly stress relieved, it is taken off the stickers and surface before final inspection.  Out from the thickness planer comes the most beautiful lumber for final inspection. 
Our Story – 35 Years of Excellence
We are not your average lumber provider.
For over 35 years, we have sourced and shipped the finest hardwood in North America to customers overseas that accept nothing but superior material. For example, top manufacturers in Japan use our lumber exclusively in fine furniture and architectural design. (See photos of finished products exclusively using our hardwood material.)
We are now making this premium hardwood available to woodworkers here at home. Professionals and DIY enthusiasts appreciate getting their hands on the finest walnut, cherry, white oak, northern red oak, maple and other hardwoods they've ever used!
Once in the kiln, our lumber is dried and reconditioned to remove moisture and internal stress. It is then surfaced, and receives a final grade to ensure only the most exceptional boards arrive at our Chicago-area warehouse.
Shop Walnut from North Castle Hardwoods
Shop our selection of premium lumber including the finest black walnut available in North America. Be sure to look at our custom grading page to learn more about how we sort and grade our high-quality wood products.