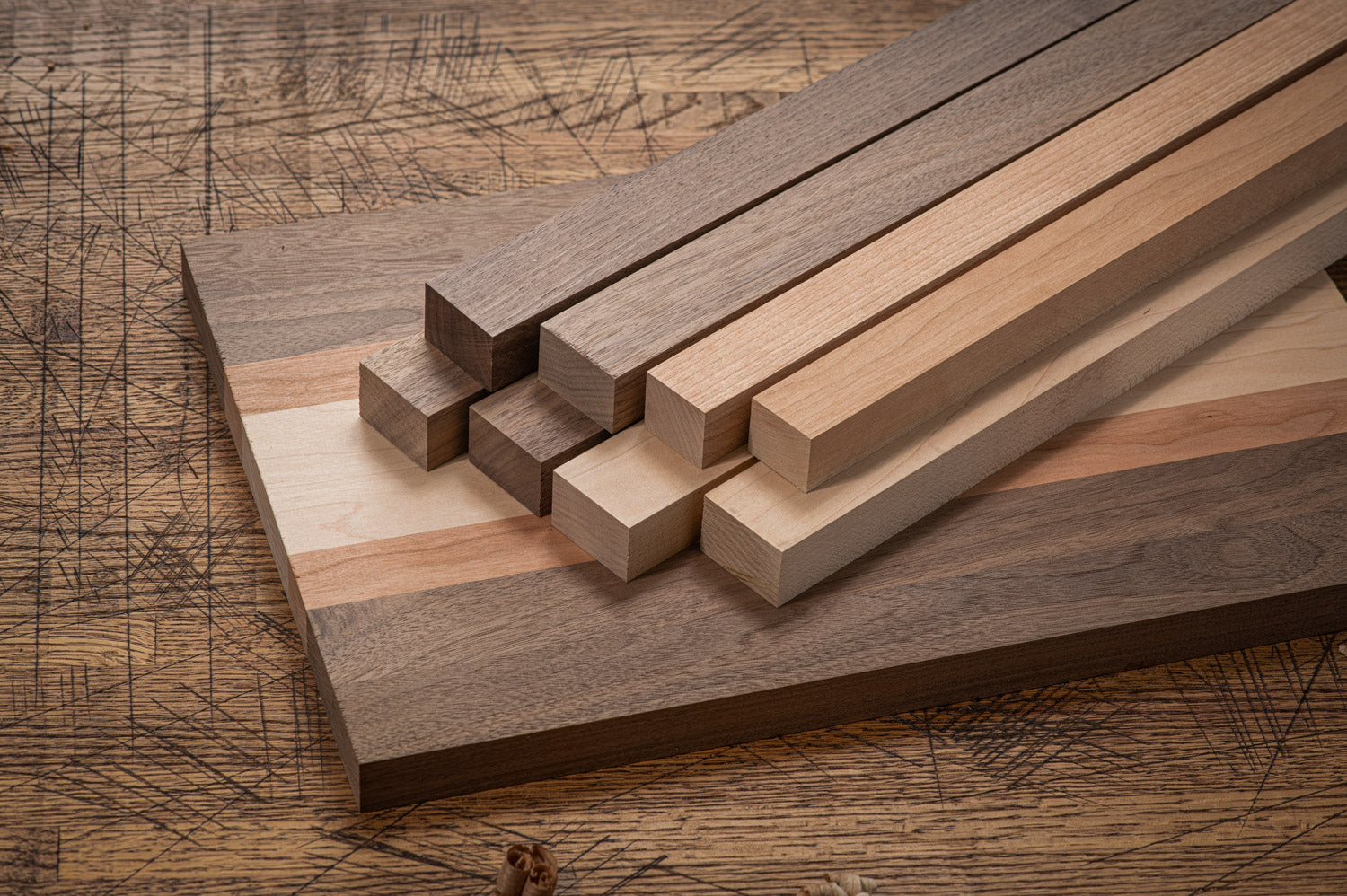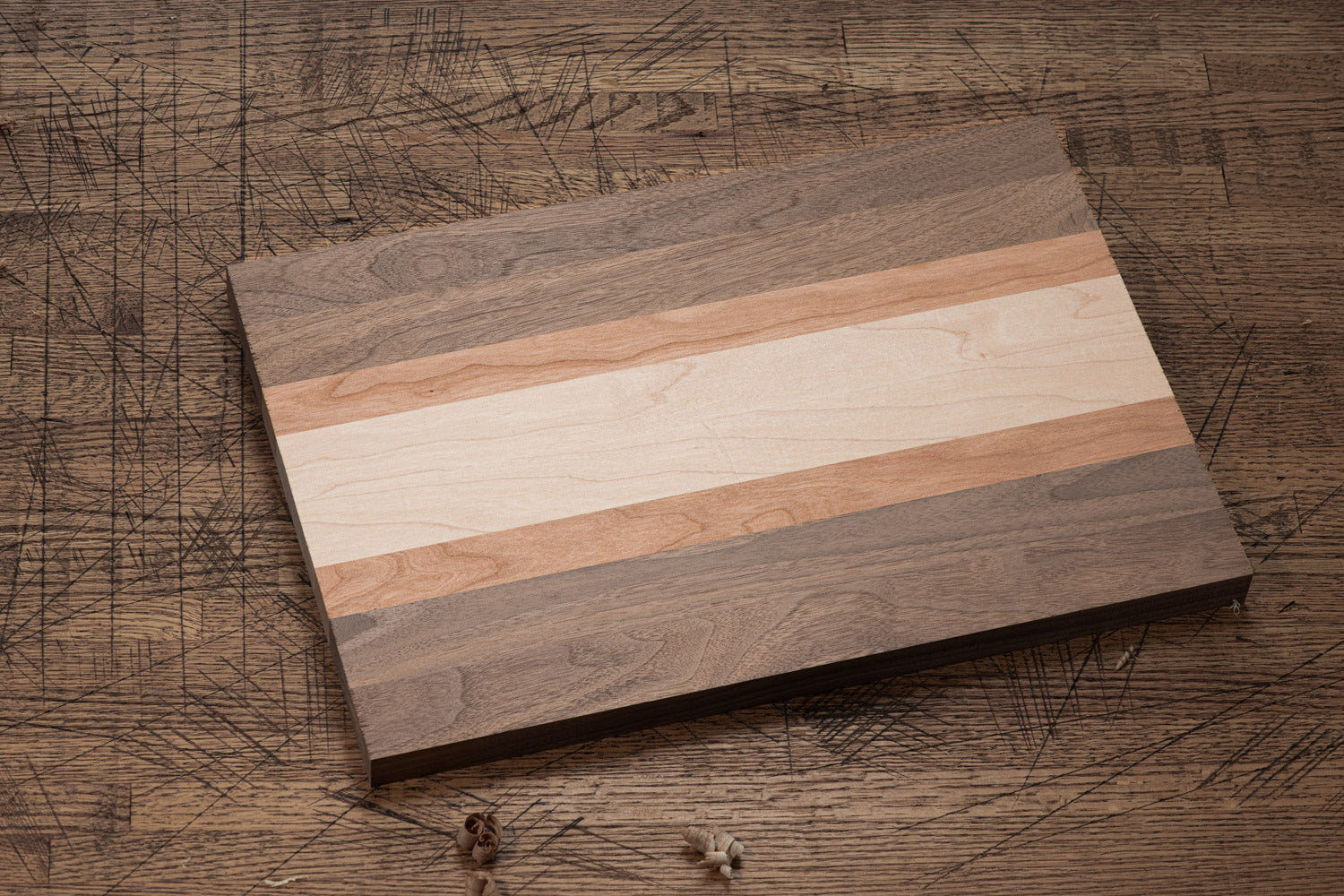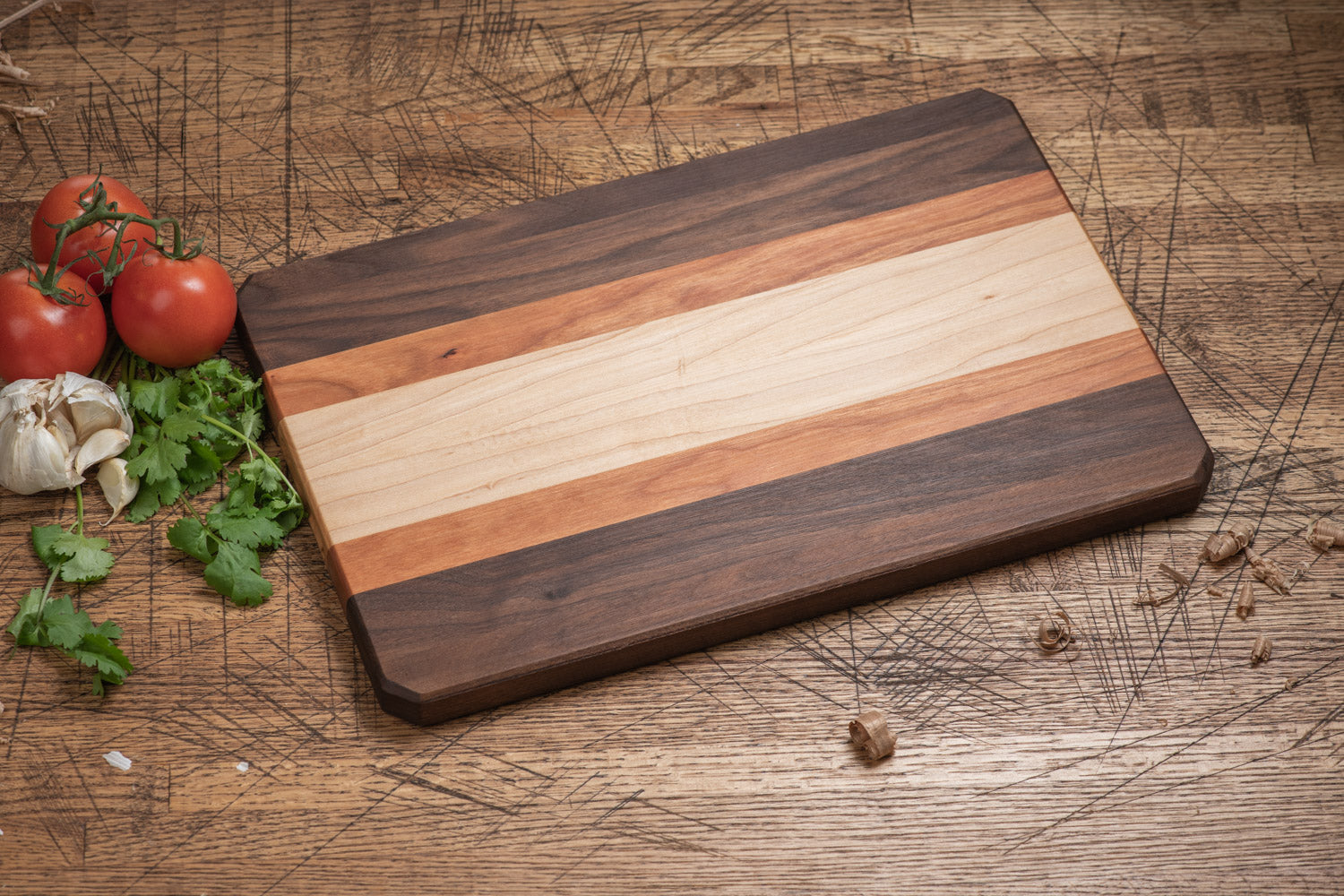 Cutting Board Kit - Zion - Medium
Zion Design Hardwood Cutting Board DIY Kit- Walnut/Maple/Cherry
We incorporated a generous use of our highest quality black walnut wood in the design of this exquisite cutting board to achieve a warm and luxurious feel. You will love this cutting board to complement the warmth of your kitchen and dining environment.

Finished board dimensions are approximately 1"+(T) x 12"(W) x 18"(L) 
What's in the box:
4 pcs; North American Black Walnut; 1-1/16" x 1-5/8" x 18-1/2"
2 pcs; White Hard Maple; 1-1/16" x 1-5/8" x 18-1/2"
2 pcs; Black Cherry; 1-1/16" x 1-1/4" x 18-1/2"
1 pc; Assembly Instruction Card (with link to our instructional video)
What else you need:
Wood glue

Clamps

Sanding products

Oil & Wax
Care of Your Cutting Board
Wood is a natural material that "breathes" in and out humidity and moisture.  Unlike plastic or glass, hardwood cutting boards have proven antimicrobial properties.  North Castle Hardwoods cutting boards are stunning, environmentally friendly, and safe in your kitchen. 
Our lumber has been carefully kiln dried to industry standard 6% - 8% M.C. (Moisture Content).  This M.C. range is proven to give hardwood material the most stability for all hardwood applications.
Because hardwood naturally moves along the growth rings as it shrinks and expands (typically shrinks in winter and expands in summer), we recommend that you stabilize the wood by applying food grade mineral oil to your cutting board after it is completed.  Leave it overnight to let the oil be absorbed and wipe it off with a clean disposable towel.  Reapply oil to any visibly dry spots as needed.  
You should continue to treat or condition your cutting board with mineral oil periodically (once a month) to prevent cracks or splits, or more frequently if you live in an extremely wet or dry climate. 
Remember, never leave your hardwood cutting board in your kitchen sink!  Keep it out of water when not being used. Wipe it dry immediately after each wash.  Solid hardwood cutting boards can also be resurfaced to remove knife marks or discoloration.  After refinishing, it will be like a new board.  With proper care, you will be able to enjoy the beauty of wood for many years to come.