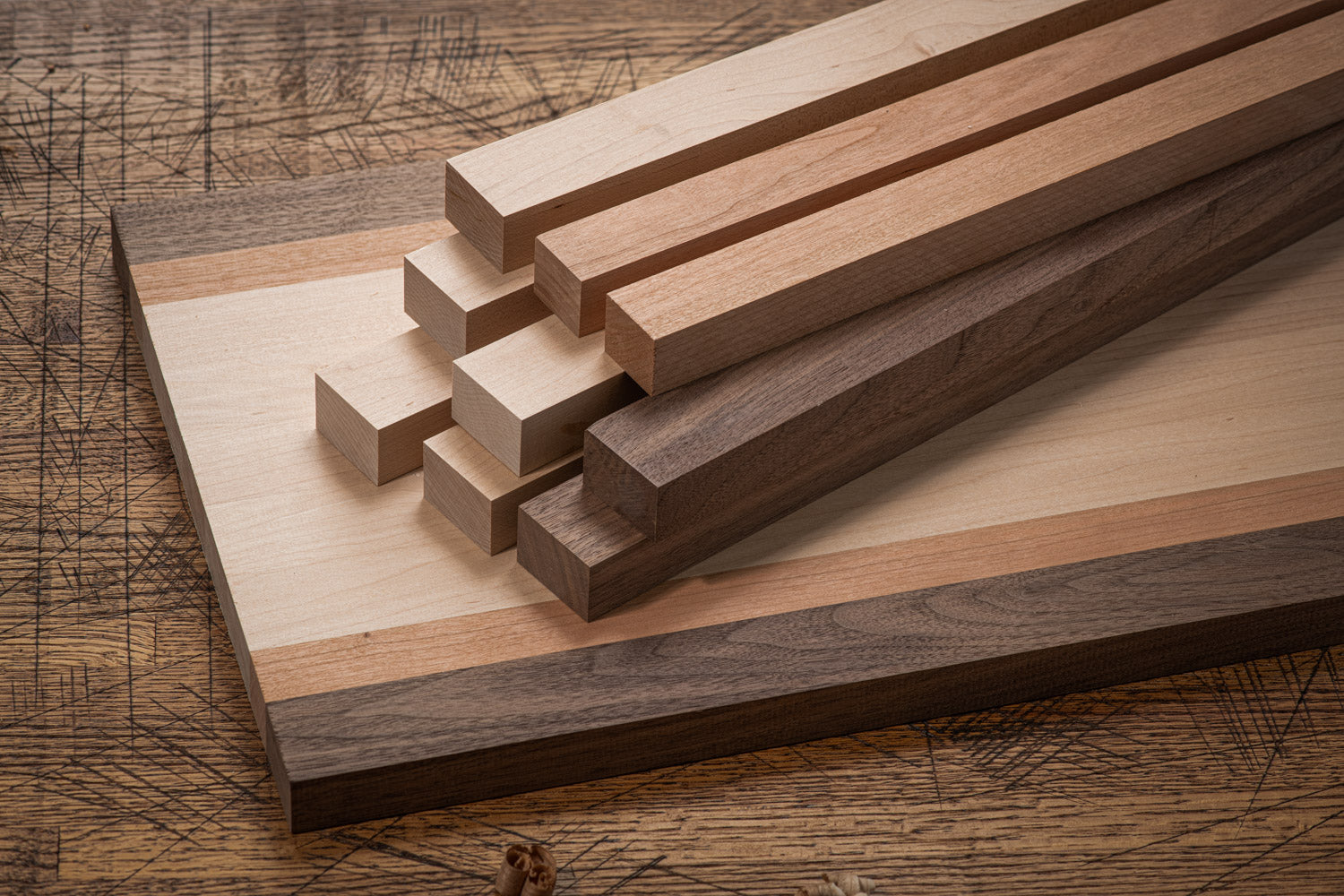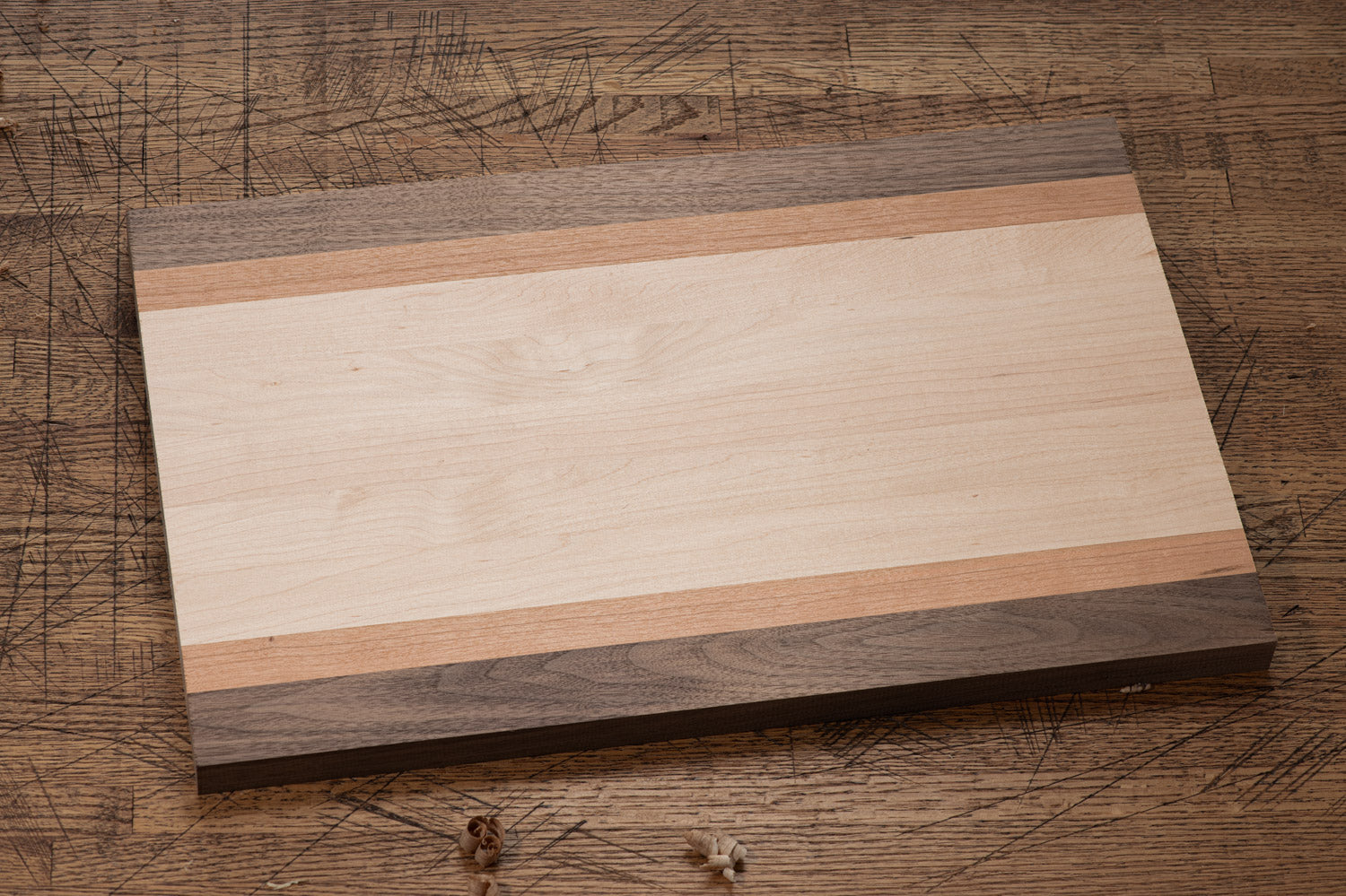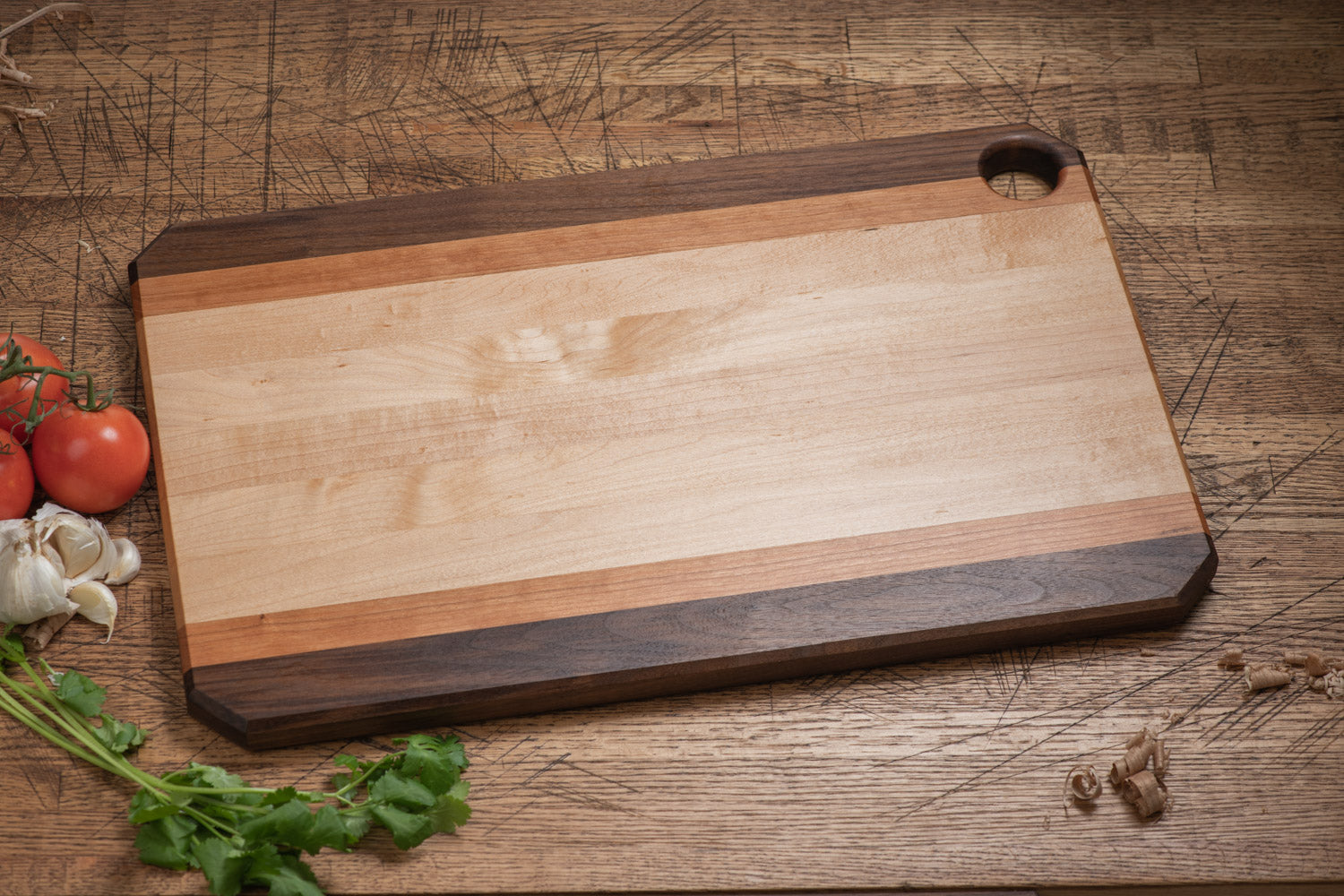 Cutting Board Kit - Everest - Large
Wood Cutting Board Kit - Maple/Walnut/Cherry
Cutting Board Kits from North Castle Hardwoods are designed and tested by our design team to provide maximum aesthetic elegance, workmanship and practicality.
We have combined some favorite North American hardwood species (black walnut, black cherry, and hard maple) in these cutting board kits.  The contrast and blend of our highest quality hardwoods will accentuate your kitchen with lasting beauty. 
The components include hand-selected matching pieces that are meticulously machined at our shop to strict tolerances.  That means that you will be able to put the cutting board together with ease and finish it to perfection.
Each top-quality hardwood component has been kiln-dried, stress relieved in the dry-kilns, and machined to exact dimensions and specifications at our shop; they are remarkably stable, straight and flat.  Whether you're a seasoned woodworker or just beginning, you'll enjoy working the finest American Hardwood material as you create a unique piece for your own enjoyment or as a special gift.
Everest Design

This design features hard maple in the center section of the cutting board, a classic choice of material for cutting boards.  However, this is not an ordinary maple cutting board.  The brightness and the cleanness of our hard maple contrasts with the warmth of black cherry and bordered with the nobility of black walnut to give an impression of purity and sophistication.  It is an elegant platform to present your exquisite food. 
We've already planned and jointed the pieces included, so all you need to do is to assemble and finish the cutting board to a creation of your own. 
Finished board dimensions are approximately 1"+(T) x 14"(W) x 22"(L)

The thickness of component pieces is machined from 5/4 (1-1/4") lumber to 1-1/16", which can be finished to approximately 1"+ after gluing and final finishing.

What's in the box:
5 pcs; White Hard Maple; 1-1/16" x 1-5/8" x 22-1/2"
2 pcs; North American Black Walnut; 1-1/16" x 1-5/8" x 22-1/2"
2 pcs; Black Cherry 1-1/16" x 1-1/4" x 22-1/2"
1 pc Assembly Instruction Card (with link to our instructional video)
What else you need:
Wood glue

Clamps

Sanding products

Oil & Wax
Care of Your Cutting Board
Wood is a natural material that "breathes" in and out humidity and moisture.  Unlike plastic or glass, hardwood cutting boards have proven antimicrobial properties.  North Castle Hardwoods cutting boards are stunning, environmentally friendly, and safe in your kitchen. 
Our lumber has been carefully kiln dried to industry standard 6% - 8% M.C. (Moisture Content).  This M.C. range is proven to give hardwood material the most stability for all hardwood applications.
Because hardwood naturally moves along the growth rings as it shrinks and expands (typically shrinks in winter and expands in summer), we recommend that you stabilize the wood by applying food grade mineral oil to your cutting board after it is completed.  Leave it overnight to let the oil be absorbed and wipe it off with a clean disposable towel.  Reapply oil to any visibly dry spots as needed.  
You should continue to treat or condition your cutting board with mineral oil periodically (once a month) to prevent cracks or splits, or more frequently if you live in an extremely wet or dry climate. 
Remember, never leave your hardwood cutting board in your kitchen sink!  Keep it out of water when not being used. Wipe it dry immediately after each wash.  Solid hardwood cutting boards can also be resurfaced to remove knife marks or discoloration.  After refinishing, it will be like a new board.  With proper care, you will be able to enjoy the beauty of wood for many years to come.