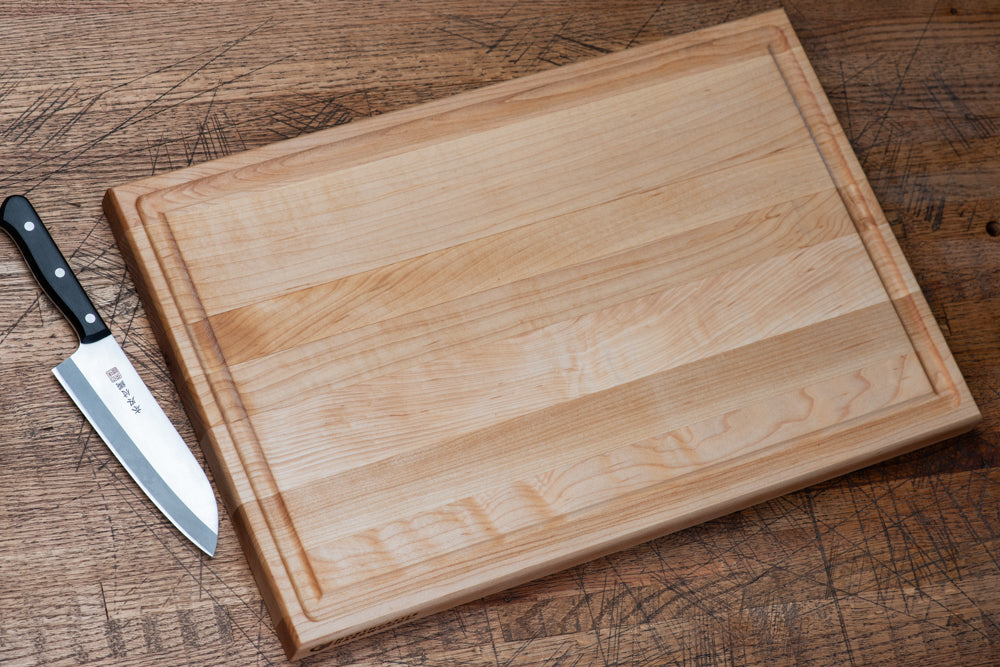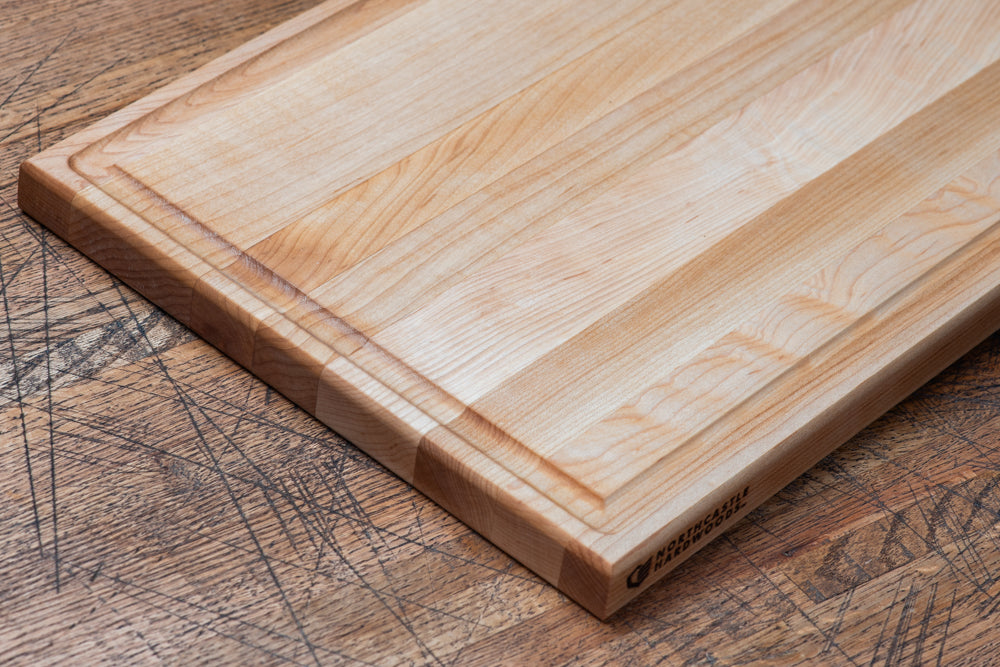 Hardwood Maple Carving Board
Hardwood Maple Carving Board
Made from our premium thick stock hard maple, this hardwood carving board will brighten any kitchen or table with its natural warmth and beauty. With a ¼" deep juice groove to prevent juice runoff, this board is great for is both practical and beautiful.
This solid maple carving board is offered in two hefty sizes that feature beveled edges for comfortable handling. Like all our carving and cutting boards, this is finished with food grade mineral oil and beeswax to help stabilize and protect the wood.
Carving Board dimensions:
Large: 22"(L) x 14"(W) x 1-1/4"(T)
Extra Large: 26"(L) x 16"(W) x 1-1/4"(T)
Taking Care of Your Solid Maple Carving Board
North Castle Hardwoods cutting boards are stunning, environmentally friendly, and safe in your kitchen. Unlike plastic or glass, hardwood cutting boards have proven antimicrobial properties.  
Wood is a natural material that "breathes" moisture in and out from the humidity in the air. Because hardwood moves along the growth rings as it shrinks and expands (typically shrinks in winter and expands in summer), we recommend that you stabilize the wood by applying food grade mineral oil to your cutting board after it is completed.  Leave it overnight to let the oil be absorbed and wipe it off with a clean disposable towel.  Reapply oil to any visibly dry spots as needed.  
You should continue to treat or condition your cutting board with mineral oil periodically (once a month) to prevent cracks or splits, or more frequently if you live in an extremely wet or dry climate. 
Remember, never leave your hardwood cutting board in your kitchen sink!  Keep it out of water when not being used. Wipe it dry immediately after each wash.  Solid hardwood cutting boards can also be resurfaced to remove knife marks or discoloration.  After refinishing, it will be like a new board.  With proper care, you will be able to enjoy the beauty of wood for many years to come.